Port Map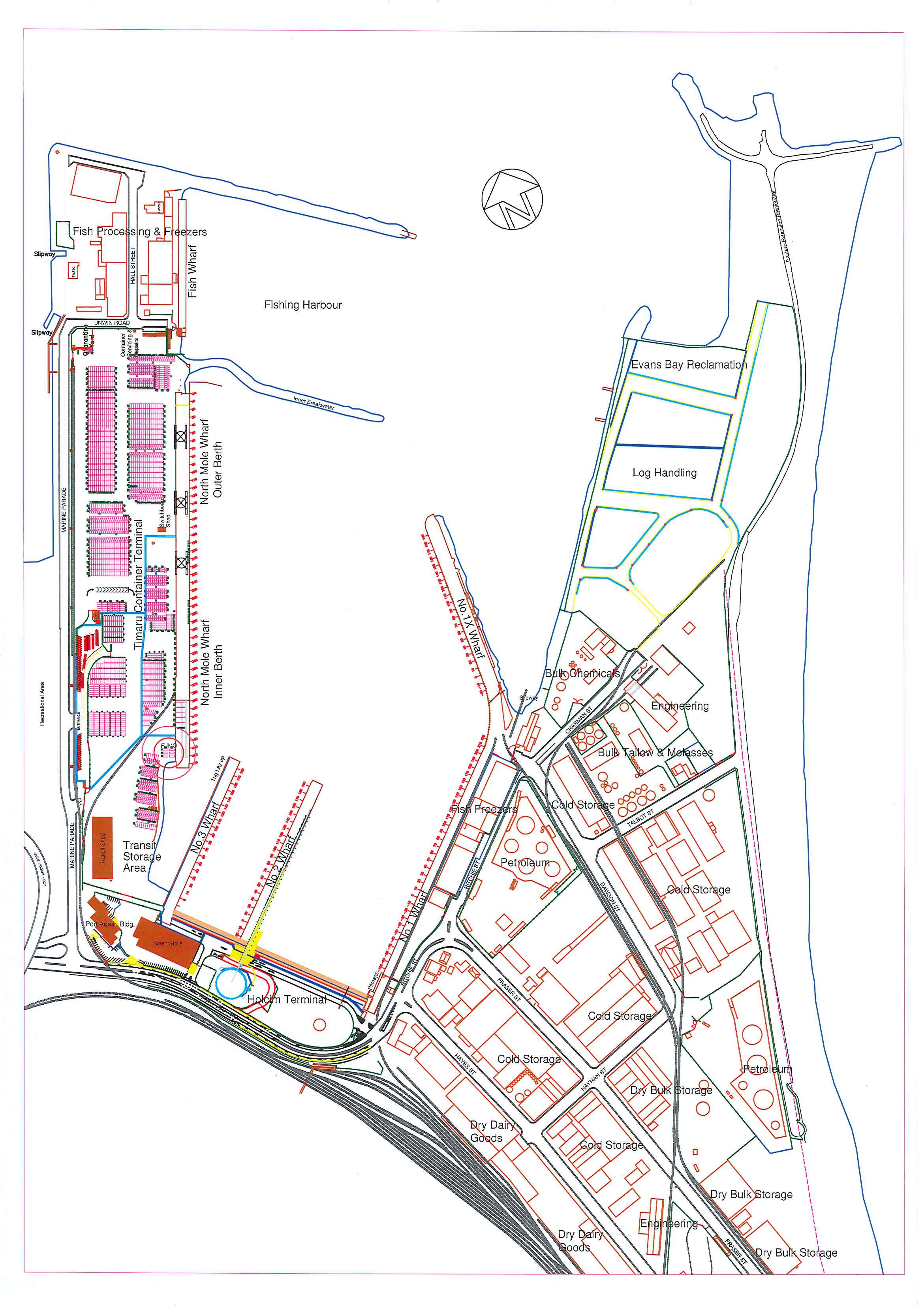 Approach Channel
2.5 nautical miles long, 200 metres wide. Maximum draft 11.1 metres subject to agreement.
Web Cams
PrimePort has a number of fixed CTV cameras overlooking the Port.
Berths
No. 1 Extension Wharf
Timber built wharf with a reinforced concrete deck, constructed on the inside of a concrete block breakwater. The wharf is equipped for handling oil, tallow, acids, palm oil, molasses and logs. The wharf is also used for discharging bulk dry products.
| | | |
| --- | --- | --- |
| Length | 215m | |
| Depth at C.D | 10.3m | |
| Maximum Vessel LOA | 200m | |
No. 1 Wharf
Timber built wharf with a reinforced concrete deck. This is a general purpose wharf and is used by the fishing industry, general cargo, vessel layup and cruise ships.
| | | |
| --- | --- | --- |
| | East | West |
| Length | 270m | 270m |
| Depth at C.D | 10.2m | 10.2m |
| Maximum Vessel LOA | 100m | 200m |
Adjacent to No. 1 East is a fishing industry owned and operated cool store.
No. 2 Wharf
A heavy duty concrete and steel finger wharf constructed in 2015 for priority discharge of international cement bulk carriers and loading of coastal cement vessels (currently operated by Holcim New Zealand Limited). Also used for discharge of bulk dry products, including fertiliser and stock feeds.
| | | |
| --- | --- | --- |
| | North | South |
| Length | 200m | 200m |
| Depth at C.D | 10.5m | 8.3m |
| Maximum Vessel LOA | 180m | 180m |
The North Berth is used for unloading bulk carriers and the South Berth is used for loading coastal cement vessels. The South Berth is home to the regional coastal cement carrier. The North Berth doubles as a berth for unloading bulk dry product.
No. 3 Wharf
Timber built finger wharf with a reinforced concrete deck. This wharf is used extensively by the in shore fishing fleet and as a layup and maintenance berth for corporate fishing vessels. This is also the berth for PrimePort's two tugs.
| | | |
| --- | --- | --- |
| | North | South |
| Length | 190m | 190m |
| Depth at C.D | | 9.5m |
| Maximum Vessel LOA | 180m | 180m |
North Mole Wharf
Until further notice due to infrastructure upgrades maximum vessel LOA 266m
The North Mole is a continuous 460m berth, with 385m being timber construction and the remaining 75m constructed by heavy duty precast concrete. The wharf is predominately used for container operations, bulk dry unload and heavy lift unloads.
| | | |
| --- | --- | --- |
| | | |
| Length | 460m | |
| Depth at C.D | 11.6m | |
| Maximum Vessel LOA | 286.5m | |
| Harbourmaster's Directions: Any class of vessel with LOA greater than 261m that has not previously visited the port shall be subject to an assessment by PrimePort Timaru pilots to confirm that its maneuvering characteristics allow it to safely navigate within the pilotage area. | | |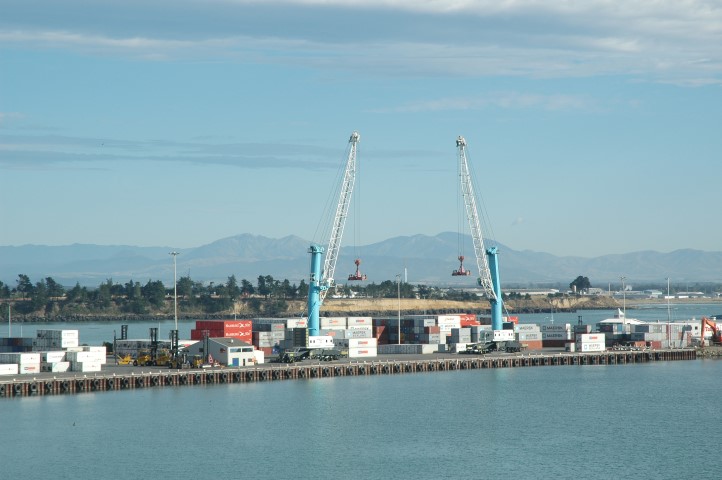 Container operations are focused on North Mole Outer and bulk dry operations on North Mole Inner. The concrete section of North Mole Inner (75m) is used for heavy lift unload.
Port Access
Road
Northern road access via Port Loop Road (SH78) off State Highway 1.
Southern road access via Heaton Street off King Street.
Rail
Timaru Rail Depot and shunting yards are located adjacent to PrimePort and the Port Loop Road. Rail sidings extend into the North Mole Container Terminal and PrimePort Log Yard.
Cargo Services
Bulk Products
Fertiliser, stock feeds, cement and other bulk dry products make up a considerable portion of the volumes imported and discharged through PrimePort. With six hoppers available bulk volumes can be discharged across a number of the Ports berths.
A PrimePort owned and operated weighbridge and independent storage facilities are available nearby.
Importers and exporters of bulk products must refer to Appendix 2 of the PrimePort Air Quality Management Plan.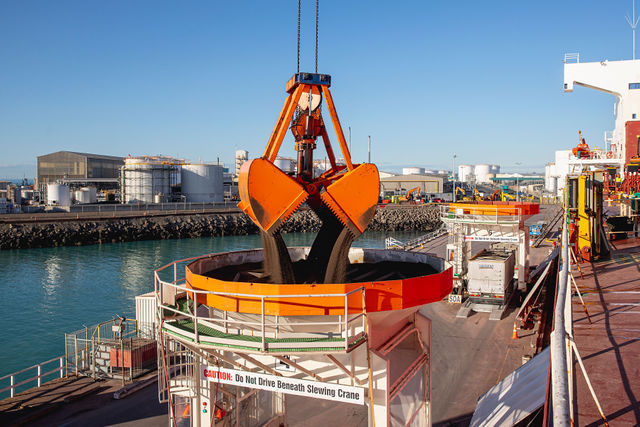 Bulk Liquids
Independent facilities exist for storage and distribution for fuels, molasses, bulk chemicals and vegetable oils. Timaru is also the major export port for bulk tallow.
Logs
A five hectare unpaved storage yard adjacent to No. 1 Extension Wharf provides storage for up to 50,000m3 of export logs. Log marshalling and stevedoring services are provided by independent operators.
Imports and exporters of logs must refer to Appendix 3 of the PrimePort Air Quality Management Plan.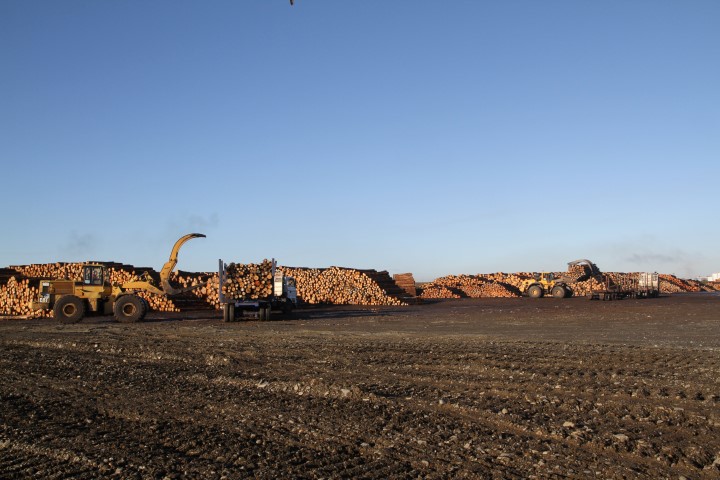 Break Bulk & Project Cargo
PrimePort has a particular skill in handling break bulk and project cargos including receiving, delivery, marshalling and storage. Large/heavy loads are handled at the North Mole for delivery throughout the central South Island. Timaru's central location on the East Coast and excellent rail access, with no restrictive tunnels, makes for efficient handling of difficult consignments.
General Cargo
PrimePort is well equipped to manage an array of import or export general cargos. PrimePort is a key base for Chatham Island trade.
Fish
Timaru is New Zealand's second largest fishing port. It is home to several deep sea trawling vessels and a number of inshore fishing vessels. There are two major fish processing plants adjacent to the fishing harbour.
Container Services
The Timaru port has a significant container terminal operated by Timaru Container Terminal Limited, a subsidiary of Port of Tauranga.
The container handling services include:
Receiving and delivery of cargo via road or rail
Storage of containers
Stevedoring and marshalling of cargo
Container cleaning and repairs
Monitoring of reefer containers
Container packing and unpacking
Container tracking, ship planning and reporting via EDI (Navis N4)
Storage
Paved Storage
Five hectares of paved storage space at the North Mole Container Terminal and Freight Station (operated by Timaru Container Terminal Limited).
Covered Storage
A total of 5,000m2 of covered storage space including North Mole Transit Shed (operated by Timaru Container Terminal Limited) and the South Store (operated by PrimePort).
Cold Storage
Independent cool store operators and fishing companies provide a total of 170,000m3 cold storage in the port area.
External Port Services
Bunkering
Cargo certification
Provedoring
MPI / Customs
Logistics / Transport
Storage
Engineering
Policies & Procedures
Port users are required to comply with several PrimePort and other external agencies policies and procedures.